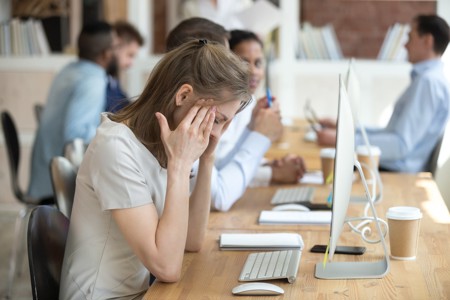 Open offices – risks and potentials
A meta-analysis revealed a strong connection between working in open offices and reduced worker's psychological privacy and job satisfaction. Some evidence exists that cognitive workload increases in open offices. The hearing experience is very individual and is influenced by multi-dimensional factors. On the one hand, there are the psychological factors such as the attitude towards sound and the stress resilience.
On the other hand, there is the significant sound components (level, reverberance, and clarity). Each of those components, such as acoustic ceilings, determine the impact the acoustic environment has on the individual.
Surveys showed that employees in open offices complained about noise 10x more often than people working in cellular offices and were more often unsatisfied with the amount of accomplished work due to noise distractions. 62% of businesses are already trying to minimise distractions to allow a more productive performance.
Lack of acoustic environments for focus work and it's commercial consequences
Increasing days off due to sick leave causes rising governmental and commercial costs. Mental health issues cause nearly half of missed working days and cost UK employers around £45 billion annually. Office space has become an increasingly dense environment and big open spaces with the pursuit of facilitating collaborative work came at the cost of good, focused work scenarios.
63% of occupiers say they feel negatively impacted in their work productivity, their satisfaction and wellbeing due to a lack of silent space for focus work. The main sensory distractor in the workplace is noise at 69% followed by visual factors. Those who feel distracted by noise experience a decline in being focused, productive and creative. In open office spaces, distractions occur every 11 minutes and coming back to focus on the task takes up to 20-25 minutes. A survey has shown that this can cause an annual financial loss of productivity estimated up to US$18,000 per employee.
As a solution, current workspace designs increasingly integrate diverse landscapes. By this, occupants have the choice of which setting suits their specific task best. Those different environments allow employees to allocate the best place for high, medium, and low focus work.
A successful floor plan with different room types does not work on its own. Ensuring that hard surfaces absorb sound rather than reflect it is essential for good acoustics. By using suitable materials and products to cover elements such as walls, carpets and ceilings can interrupt the reverberation of soundwaves and create a natural sound environment. If noise should be kept in or outside certain areas, suitable sound insulating products can help control those acoustics.
A third way to get control of distractive noises is sound masking. Sound masking is a process in which loudspeakers are placed in a room to mask a harmonic sound of noise. This design application is recommended in the WELL Building Standard for both increasing privacy between spaces as well as creating restorative spaces for workers to relax and take breaks.
Conclusion
After two years of continuously needing to adapt to changing environments, employees have redefined what they expect from their workplace – and this is mostly not what the pre-pandemic office provided. 53% of the employees are considering transitioning to hybrid work this year, but still will prioritise wellbeing over work. At the same time companies want their staff to return to the office as they aim to improve company culture, innovation, learning, and productivity.
The current discourse in the workspace design industry is investigating key elements more closely than ever before. What needs to be considered to design an inviting, meaningful, and healthy workplace that employees want to return to? Well, at least, acoustic quality is one of them!
Useful References
Bartz, A., 2017. How City Noise is Slowly Killing You. Loud street noise is now considered the number-two threat to public health, after air pollution. Harper's Bazaar, 25 July.
Basel, U., 2019. Guter Lärm, schlechter Lärm: Weißes Rauschen schärft das Gehör. Unnützes Wissen: Medizin+fakten to go, Issue https://www.medical-design.news/news/guter-laerm-schlechter-laerm-weisses-rauschen-schaerft-das-gehoer.171235.html.
Ecophon, . Acoustic Bulletin by Ecophon. [Online] Available at: https://www.acousticbulletin.com/home/acoustic-planning/make-the-right-room-acoustic-demands-from-the-start/the-room-affects-the-sound [Accessed 26 04 2022].
Haapakangas, A., et al., 2008. Perceived acoustic environment, work performance and well-being - survey results from Finnish offices., s.l.: s.n.
HYLO, 2021. Health & Wellbeing at HYLO, London: Finsbury Tower Estates.
Interface Inc., 2019. What's That Sound? The Impact of Office Noise on Workforce Productivity. Workplace Acoustics Study.
Kim, J. & de Dear, R., 2013. Workspace satisfaction: The privacy-communication trade-off in open-plan offices. Journal of Environmental Psychology, 36(0272-4944,), pp. 18-26.
Microsoft, 2022. Work Trend Index 2022 - Great Expectations: Making Hybrid Work Work, s.l.: Microsoft.
Ngo, H, et al., 2013. Induction of slow oscillations by rhythmic acoustic stimulation.. J. Sleep, Volume Res. 22, pp. 22-31.
Kordt Christensen, R, et al., 2019. White Noise Background Improves Tone Discrimination by Suppressing Cortical Tuning Curves. Cell Reports, 29(7), pp. 2041-2053.
Salleh, M. R., 2008. Life event, stress and illness.. The Malaysian journal of medical sciences : MJMS, 15(4), pp. 9-18.
Torresin, S. et al., 2022. Indoor soundscapes at home during the COVID-19 lockdown in London—Part II: A structural equation model for comfort, content, and well-being.. Applied Acoustics, Volume 185.
Wyk, B. v., 2022. Enabling Focus at Work. s.l., MillerKnoll Insight Group.
Written by Carolin Bakowski, Marketing Specialist at SAS International
Banner image: iStock | Top image: Carolin Bakowski | Middle image: vibrasonic.com